360
viti: the online platform to view and store all of your vineyard information
Manage your vineyard with plant, fruit, and envrionmental data
Vineyard information can be sourced from data providers that you are already using. 360viti has been designed to centralize and analyze all different types of data.
3 Objectives :
Informative, Efficient, Dependable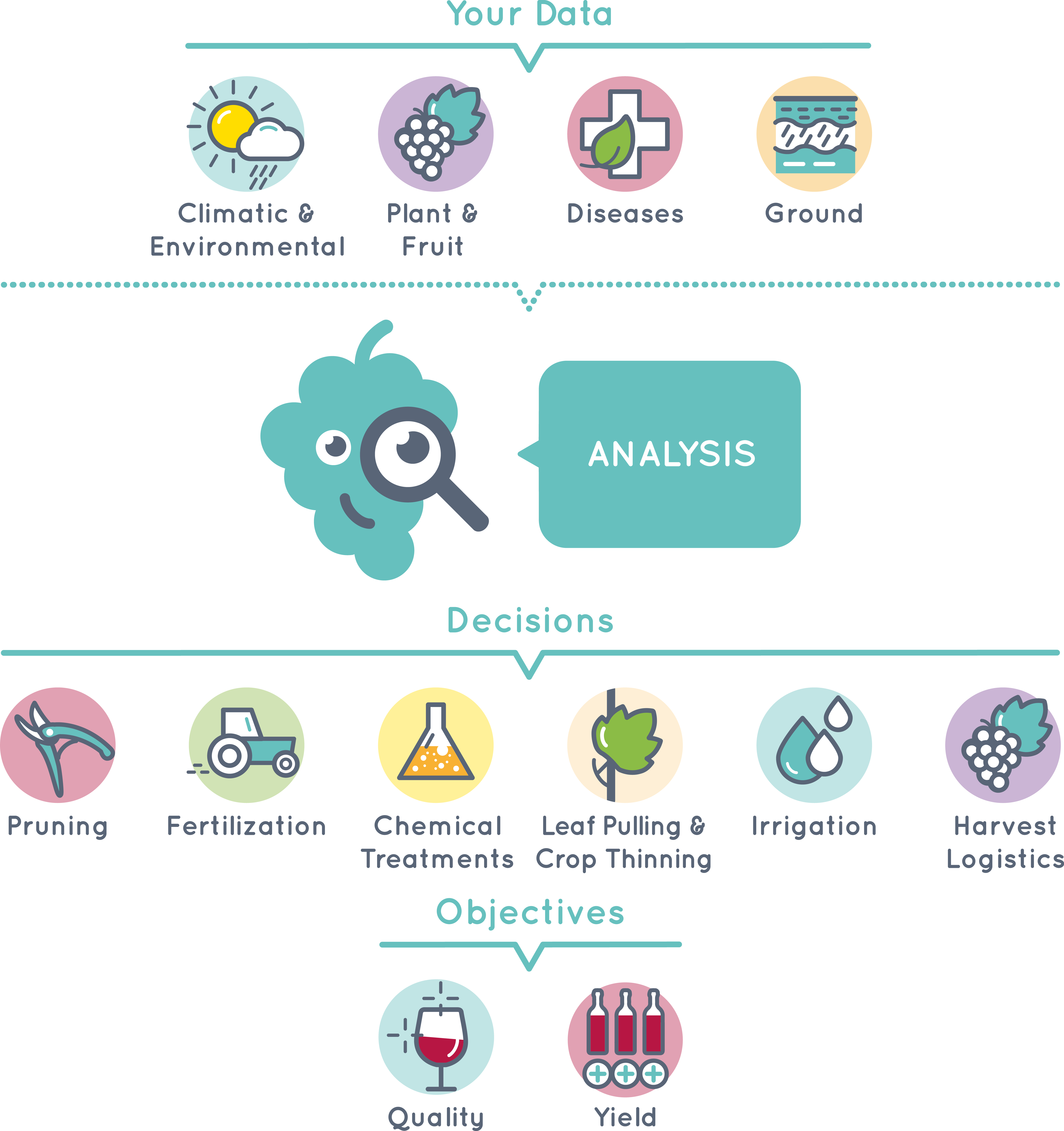 360
viti integrates and displays all your sites data to support you and your team throughout the season
Weather data, fruit analysis numbers, aerial imagery maps... data is scattered. 360viti enables wine professionals to save time and to be more precise by compiling and analyzing multiple variables.
Visualize and understand
With your personalized dashboard, interact with your favorite indices and setup alerts.
Compare and improve
View historical data and better understand the impact of your past vineyard practices.
Diagnose and take action
With 360viti apps, you can create detailed tracking logs for each parameter. By linking the data everything becomes clearer!
Work better as a team
Build private dashboards or sharred ones. With shared dashboards the vineyard and winemaking teams can all use the same information to streamline processes and make a better wine.
Make the digital transition effortless
Think about all of the different spreadsheets, log-ins, websites, and more that you have to juggle while managing a vineyard; between your maps, weather, soil, plant, and fruit data there is information everywhere. 360viti brings you what you're missing. One place for all your vineyard data! Easy!
Climatic Data
Plant Data
Fruit Data
Soil Data
Aerial Imagery
Data Entry
Apps made by the industry for the industry
Dashboard :

your control center
With personalized dashboards, check your favorite indices and receive alerts. Every user can create their own dashboard-- share it or keep it private.
Maps :

bird's-eye view of your vineyard
The Maps app allows your vineyard maps to be georeferenced (NDVI, Physiocap® etc.). In the Maps app you can draw, measure, and write reviews on your maps.
Graph :

follow your data over time
The Graph app enables you to track data evolution in the form of a curve, or histogram; compare this season with previous seasons. Examples: fruit sugar level, rain level, and water stress.
EnterData :

Manually input data
Digitize visual observation; this data can be georeferenced and shared with your team
A board for each data set
360viti allows you to create boards categorized by type of data, vineyard block, and sub-block
A board for each team member
Each profession is interested in different variables, 360viti makes it possible to track these variables by theme and by block
Solutions
There's two 360viti levels. Which one is made for you ?
Make sure everyone can enjoy the benefits of vineyard data analysis.
Access to all 360viti apps
One data provider integration
Everything in Starter360 plus:
Get acces to local weather station data
Access to all 360viti apps
Unlimited number of dashboards
Unlimited number of data provider integrations